I mentioned in this morning's post about former President Bush's speech that tax cuts are a powerful thing. This is what I'm talking about: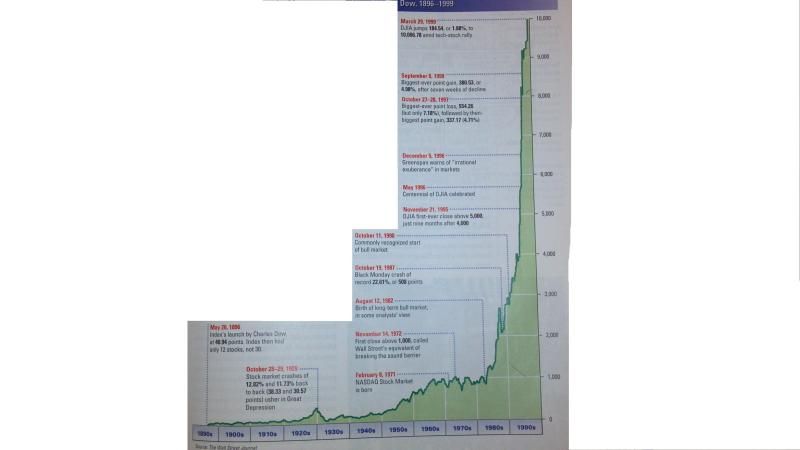 It's from the economics textbook I use in my class showing the Dow Jones industrial Average from its beginning in 1896 until about 1999. Notice where it really begins to skyrocket? 1982, just months after the Economic Recovery Act of 1981 slashed taxes. The top rate would go from 70% to 50% in three years and the bottom rate from 14% to 11%.
I expect two things to be said about this:
1. It's all inflation.
Much of it is. However, the prime interest rate reached as high as 21.5% in 1982, so the initial take-off was not a result of loose money policy.
2. There was a crash in 1987.
Sure, but there was no recession. The economy remained strong despite the crash. It was basically a computer glitch. Investors took a little while to regain their confidence in the market again, but when they did, they didn't look back for a decade.
Look at the rest of the graph and think about the economic policies that caused the sideways pattern. Then look at the butt crack shaped pattern in the 70s. Whose economic theory were we following at the time? Whose are we following now?
If the 70s were butt, what makes us think the teens aren't going to be if we're following the same economic theory?
My Mind is Clean
20

Comments On This Entry
0 user(s) viewing
0 Guests
0 member(s)
0 anonymous member(s)

Google
New Blogroll! And...World's Shortest Movie Reviews
Blog Roll
Ace of Spades
National Review
Got News
RealClearPolitics
ZeroHedge
The Federalist
African American Conservatives
Instapundit
World's Shortest Movie Reviews
American Sniper
: Bradly Cooper=Best Actor
The Arroyo
: Had a Pureflix feel to the acting, but well shot. Great conservative movie.
The Hobbit: The Battle of the Five Armies
: As usual, the third installment is the best--having an ending really helped.
The Maze Runner:
The perfect metaphor for moving to Detroit.
Dumb and Dumber To
: More jokes. Cruder jokes. Someone gets hooked on crack.
Snowpiercer
: Joe Biden's idea of heaven. Everyone on the Earth living on a train. Captain America admits he was going to eat Billy Elliot.
Hunger Games: Catching Fire
: This is what the world would look like without college football.
Interstellar
2001:A Space Odyssey with a soul. You will get very thirsty, so hydrate before viewing.
When the Game Stands Tall
Proves my theory that it's worse when you win.
Guardians of the Galaxy
Make a fun adventure movie about space and make a ton of money. Who knew? I mean, besides that Lucas guy.
Blended
I don't get the "Billy Madison is genius, Blended is crap" review. It's as good as any other Sandler movie.
Mom's Night Out
Hilarious. You will laugh unless you drive a black BMW and watch sunsets at the golf course.
The Amazing Spiderman 2
This series is still better than the Toby McGuire one. I actually cared if Gwen Stacy died.
Odd Thomas
I understand the critics who didn't like the uneven tone. Way uneven. Still worth watching on Netflix.
Star Trek Into Darkness
Good movie. Please, for the love of tribbles, let old Spock die.
Grown Ups 2
Critics, attack. Whatever you want to say about this one, I'm okay with it.
Thor: The Dark World
Still very, very good. But I'd like an entire Thor movie set just in Asgard.