I figure this deserves its own thread and a short article on the whole Jefferson controversy itself. First, my esteemed fellow RN blogger, MADGestic, has
some serious problems
with my side's favorite "historian", David Barton...
Quote
That's why Barton is such an execrable character; he not only misrepresents himself as some kind of historian but sadly some gullible folks actually believe his blather… such as Cameron. (You may remember Barton from the "Texas Textbook Wars" of a few years ago.) Barton's recent book, ironically titled The Jefferson Lies has hit the net (if not yet the bookstores) and with relatively little effort you could see that it's being panned by virtually everyone except for those that "want to believe". I think Barton very well knows his niche audience and is selling them what they want to hear even if he has to MSU (Make [Stuff] Up).



Some may think that's shrewd business acumen whereas I see a clear case of salable confirmation bias at work. I think it's cynical, unethical, and that such devil-may-care disregard for the common moral tenet of honesty represents a form of pathology.
Let me deal first with that last part. If Barton wanted to make some real money off the malleable Christian masses, he'd write a book about a metrosexual Christian vampire and the mousy girl who loves horses and can decide between the metrosexual Christian vampire and an effeminate Greek Orthodox creature from the black lagoon. He would steer far clear of a book about Thomas Jefferson.
But, he has written a book about Jefferson called
The Jefferson Lies: Exposing the Myths You've Always Believed About Thomas Jefferson
. It's a provocative title and states explicitly that you don't what the heck you're talking about when it comes to Jefferson. Its all been lies. Lies!!! Now i don't know if he'll make a ton of money off this book, but he will stir up no end of controversy with it. Personally, I could care less because no one seems to get the point when it comes to Jefferson. More on that later.
The notion of expertise in history is a slippery thing. Normally, we look at a scholar's area of study in which said scholar holds an advanced degree and say that in that area alone, this person is a reliable "expert". That notion assumes a whole bunch of stuff that may or may not be true, not the least of which is the rigor and objectivity of peer review. In Barton's case, there are no advanced degrees in history or work that's been subjected to the normal academic process of peer review. So, if we're going by that typical concept of expertise, Barton is clearly no expert.
So, does it mean he's a liar if he claims to be an expert? Only if you don't agree with his opinion. I guarantee you that if his opinions lined up with conventional left-wing academia, he'd be hailed as a "breath of fresh air" or some other sycophantic superlative. James Loewen famously authored
Lies My Teacher Told Me
claiming basically what Barton claims but from the other side of the ideological divide. And made a crap ton of money more than Barton will ever see, I might add. Does that make Loewen a liar? I don't think so. He's a BS artist who doesn't know nearly as much about history as he thinks, but I don't think he's lying about anything.
If I had to pick two real historians besides Howard Zinn to call liars, it be Charles Beard and Richard Hofstadter. Both are responsible for some egregious misrepresentations about history that have damaged the profession perhaps irrevocably. Beard created the notion that of all political philosophers, John Locke was the single greatest influence on our system of government. Nothing could be further from the truth. If you want to know why, pick up a copy of Russell Kirk's
The Conservative Constitution
and read his chapter on why Locke did not write our constitution. Hofstadter, gave us our warped concept of Social Darwinism. Jonah Goldberg has a book coming out that will deal with that, but if you'd like the basics, check out The Tyranny Blog, which is linked in the side bars.
In both cases, whole generations of historians built up narratives about American politics and social development upon these misrepresentations. They are not small areas of disagreement. One's opinions about our economic system are thoroughly haunted by these dead white men as are our ideas about social issues.
And though there have been serious books that dispel the myths of Beard and Hofstadter, the myths persist because academia either doesn't recognize the expertise of the books' authors or the authors weren't popular or visible enough to convince the public that they need to adjust their picture.
I can imagine that a David Barton would scare the adherents to certain narratives about American history because he has a platform and doesn't have a laminated backstage pass to the annual Blow Smoke up Beard's, Hofstadter's and Zinn's Butts mixer.
That's
what makes him a liar, not having anything to do with his work.
From what I can glean from the interwebs, the most controversial or at least sensational aspect of Barton's new Jefferson book is that he disputes the indisputable evidence that TJ did in fact have an ongoing hook-up with his slave, Sally Hemmings. Barton seems to be very protective of TJ's image as an upright, moral person. If that bothers anyone, it shouldn't. Historians of all levels of "expertise" engage in hagiography from time to time. The DNA evidence gathered back in the 90s is compelling for sure, but I imagine Barton is simply pointing out that the DNA matches prove that a man with Jefferson genes fathered a child with Sally Hemmings. And there were other Jefferson men who had access and motive, if you will.
Airtight? Not really, but neither is the case that TJ was Hemmings' baby daddy. It seems to me that this battle will play out along ideological lines rather than spark any stimulating and enlightening discussions about Jefferson.
So, let me spark one myself. Yes, I'm
that
good.
TJ is the ultimate political Rorschach test. conservatives see his reflection their mirrors, liberals see it in theirs as do Christians and atheists. Why is that? It's because TJ was a complicated man just like Shaft. A conservative could see TJ as a kindred spirit in the Louisiana Purchase because it meant national greatness and a liberal would see a great example of a proactive, strong executive branch working for the greater good. An atheist sees definitive proof that TJ held the modern Left's concept of separation of church and state in his Letter to the Danbury Baptists while an evangelical Christian sees the opposite in Jefferson's Second Inaugural Address in 1805.
The point few people get is that TJ was the opposite of today's secular warrior, who at least claim they see no danger in spirituality (believing in Jesus) but only see it in the pushing of one's morality. TJ had a huge problem with the spiritual side of Christianity, but absolutely adored the morality of it, so much so as to call himself a Christian not because he believed Jesus to be divine, but because he believed in the teachings of Jesus. He went to church regularly while president and made sure government buildings were available for church services.
In other words, Jefferson believed that the morality of Christianity was the good part and not the theology. Christian morals are what really gall today's secularist, not the fact that people believe He died and rose again. "Proving" the irrationality of Christian theology is merely a means to an end, which is to remove all power behind the morals. You don't see any secularists running around trying to debunk the idea that the Buddha really got all enlightened under that tree, do you? When's the last time you heard Muhammad's story called into question by one of these truth detectives?
Finally, and I think this is where the whole Sally Hemmings thing intersects, the main problem most secularists have with Christianity is with sexual morality. If Jefferson can be shown a lech, then he obviously didn't weigh all that stuff Jesus said about sex too seriously. Well, whether he did or did not know Ms. Hemmings in the biblical sense is irrelevant. People who live by moral codes never, ever live up to them perfectly. So, if Jefferson didn't value Jesus' teachings on sexual morality, where's his explication of such opinions? One would think there would be an entire cottage industry devoted to highlighting them. They are conspicuous by their absence.
Of course, I'm no expert. So, I could be lying.
My Mind is Clean
6

Comments On This Entry
8 user(s) viewing
8 Guests
0 member(s)
0 anonymous member(s)

Google
Features and Blog Roll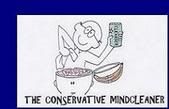 What Folks Are Saying About The Conservative Mindcleaner:
Jonah Goldberg
of National Review says:
"Uh Oh!"
Vox Day says

:
"A man after my own heart"
Chris's thought-provoking commentary and his sensible conservatism keeps California from falling further to the left and disappearing into the Pacific. He's a teacher, football fan and an all-around down to earth guy.
-Leland Lyerla (
The Southern Illinoisian Sports)
To add your testimonial, email me at
chris.naron@gmail.com
Not a member of RightNation.us? Post comments on The Conservative Mindcleaner Facebook page
Features
Contact Me
:
chris.naron@gmail.com
Blogs
Wild Game: Hunt at your peril
A Very Cool Blog on the Writing Business
: Real, working authors giving advice...
The Friday Challenge: Bruce Bethke
Daily Caller--Charles Johnson
Breitbart
Ace of Spades
The Corner
Classic Pop and Rock Digest
The Truth About Guns
Althouse
Instapundit
SooperMexican
Ricochet
The American Conservative
FreedomWorks News
Retraction Watch
Apologetics315
WagToons
Lileks
Elusively Yours
MIn TheGap
Righter's Blog Archive (Old School)
Barrels of Fish...for Shooting
Addicting Info
Jonathan Merritt (Green Baptist)
Pandagon
The New Republic
Atrios
Dailykos
Feministe
Domestic Pets
Mental Floss
Dilbert Blog
Y Safle
Mindcleaner Mania Daily Trivia Tournament
Cartoon Cleaner
--Political Cartoons by Rightnation Artists...
David Allen's Blog
News Voyager
The Inland Valley Daily Bulletin
World Net Daily
Townhall
912 Project Profile
New! Learn How to Use Google Like a Pro!
Googletutor
Updated! World's Shortest Movie Reviews
Captain America 2 Robert Redford, playing himself, gets snuffed. Best movie ever!
God's Not Dead Almost cheese free, an achievement for Christian movies.
Olympus Has Fallen Good action flick, and I really hope the Secret Service found it laughable.
Solomon Kane While it had theological problems, they were rather small compared to what I was expecting. A very underrated movie.
The Hobbit:Desolation of Smaug I'm pretty much out of superlatives, but I thought Sherlock trying to kill Watson was a neat twist.
Despicable Me 2 Keeping delightful slapstick alive. My kids' generation's version of Roadrunner cartoons.
Oblivion Pretty much every sci-fi movie made in the last 40 years but with Nintendo equipment. Worth the $1.50 I spent.
The Life of Pi I'd much rather be stranded on a lifeboat with Richard Parker than Larry H. Parker.
Iron Man 3 Don't be sad, he can make more suits.
Bully I'm sorry, but I've never seen a more clueless bunch of parents and--especially--educators.
Fat Head If you want to regain some intelligence after watching Supersize Me, watch this.
The Hobbit Not a movie. An achievement.
Red Dawn Uh, those North Koreans look pretty well fed. Almost as well fed as the Chinese. Good explosions.
Expendables 2 Someone had the genius idea to film the Random Facts About Chuck Norris. And kudos to Chuck because the film had almost no cursing.
Lincoln Brilliant. Funny. Sad. Daniel Day Lewis should get an Oscar by Constitutional amendment.
2016: Obama's America Great for high and low info voters. Not much new for the high info voter, but some good theoretical discussion. Dinesh is still a punk for agreeing to an interview, then ducking my harder questions.
The Dark Knight Rises: Best treatment of the hero theme ever. Great re-imagining of the Russian Revolution, also.
The Amazing Spiderman: Better than the original. Here's why: Emma Stone way better than Kirsten Dunce. The kid who plays Spidey is way better than Toby McGuire. Closer to the comic from what I understand. No silly Power Rangers mask on villain. I like how they keep him in high school. Martin Sheen gets shot.
Three Stooges: Turning Moe loose on the cast of Jersey Shore? Masterful.
The Avengers: The only word for how awesome this movie is: Dude.
Winter's Bone: Jennifer Lawrence deserves an Oscar for just reading this script. Let's just say don't stray too far out of Branson if you're ever up in the Ozarks.
The Hunger Games: The Running Man for pre-teen girls. But with more stabbing.
Transformers: Dark Side of the Moon: A jackhammer of an action movie. Wildly xceeded my low expectations.
Super 8: Thank you Misters Spielberg and Abrams. The former may be a pinko commie lib, but he knows what he's doing. The latter may be a jerk around artist when he's got years to tell a story. But give him just a couple of hours, and he's dead on. Great, great old school 80s era Spielberg flick.
True Grit: I didn't want to like it out of respect for The Duke, but dang it if those Cohen brothers aren't masterful.
X-Men First Class: Yet another home run from Marvel. It's funny, the first time I saw Magneto's helmet, I thought "That would look great on Kevin Bacon."
The Hangover 2: Um. Yeah. Sick. My sainted wife picked this one. I'm sure the prospect of seeing Bradley Cooper's Magnum PI caliber chest had nothing to do with it.Thor: On par with Iron Man, which means top-notch. Jeremy Shockey is great as Thor. What? That's not Jeremy Shockey? Well, he should sue then.
Battle: LASo, that's what happened on the ground on Independence Day. Seriously, very good movie.
Tangled: A Burkean mix of aesthetics and respect for tradition. In other words, it was pretty cool.
Voyage of the Dawn Treader: Spectacular. Some visuals that are so beautiful they almost hurt to look at.
Tron: Legacy: I don't know why they had to mess with perfection.
The A-Team: I wasn't a believer until stuff blew up. Then I was, like, "yeah!"Waiting for Superman: I haven't been this disappointed since I found out that To Kill a Mockingbird wasn't a documentary.
The Book of Eli: Had the potential for one of the greatest endings in movie history but pissed it away with one scene.
She's Out of My League: Is there a RomCom factory somewhere and can we blow it up in the A-Team sequal?
Waking Sleeping Beauty: I liked the Pixar Story much better. It's basically the same movie about movies.
Clash of the Titans: Yelling "Release the Kraken!" when you go into the men's room is still funny. But it has been funny since the 80's, so...
Date Night: Not your average RomCom. I think this is the movie Alfred Hitchcock was trying to make when he slapped North by Northwest together.
Iron Man 2: Keep them coming. Please.