Cracked's
headline,
5 Baffling Discoveries That Prove History Books Are Wrong
, supports what I was saying the other day about "experts". We question expertise only when we want to. I highly doubt that too many "history books" directly said anything opposed to the findings in the list, like "The consensus among archaeological experts is that Egyptians never snorted cocaine or smoked cigs prior to mummification." So, it's not that they were necessarily wrong as much as incomplete.
Of course, Cracked is a comedy site, so we don't hold them to a very high standard. But this is exactly the king of thing "serious" scholars like Howard Zinn do. They make up arguments for past historians and then take them down. Or, worse, they ascribe bad history to patriotic conservatives when it was really progressives who got it wrong in the first place.
Anyway, I'm sure you're not interested in another one of my sermons. Nor are you ambitious enough to click the link. I'll truncate the list for you:
Quote

#5. Cocaine Discovered in Egyptian Mummies

So the German scientists did what anyone trying to protect their reputation would do -- they had an independent lab test the mummies themselves. They found the same dope. The Germans then went to work testing hundreds of ancient mummies, finding nicotine in a third of them. Not only that, but actual tobacco leaves were discovered in the guts of Ramses II (of Exodus fame, maybe). And among those leaves, an actual dead tobacco beetle was found, which means that some ancient Egyptian just smoked the hell out of his cigarettes.

#4. Ancient Hebrew Inscribed on a Rock in New Mexico

Yet when a modern geologist examined the inscriptions and compared them with carvings nearby, he concluded that the scratchings could be between 500 and 2,000 years old. And that's as much as we'll presumably ever know -- by this point, too many people have handled the artifact for dating tests to get any kind of accurate results.

#3. Ancient Roman Statues in Mexico

So how did it get there? No one knows. But another discovery might shed some light on the mystery.
In 1982, an underwater archaeologist discovered a buttload of third century Roman vases in the harbor of Rio de Janeiro. A little more digging around led to the discovery of two rotting Roman-style ships, which were then promptly buried with sand by the Brazilian government. Apparently Brazil hates adventure, and also the idea of anyone messing with their version of history, which was that their land was discovered by the Portuguese, not the Romans. Seems like it'd be cooler to have been discovered by the Romans, but whatever.


#2. A Norse Coin in Maine

... but when they did, the evidence was pretty conclusive. Not only was this an ancient coin minted during the reign of Norse King Olaf Kyrre, but the window of its production was pretty limited: 1065 to 1080. That's 15 years, for those of you too lazy to bother with rudimentary math. This coin must have been made within those 15 years, and in Norway. And it was found in Maine, USA, 5 inches beneath the surface of the earth, among 30,000 genuinely Native American artifacts found during the dig.

#1. Ancient Japanese Speakers in New Mexico

OK, maybe the Zuni people aren't speaking Japanese-Japanese, but there are enough similarities between the two languages that a few experts are spooked. The theory of a Japanese/Native American connection came about when graduate student Nancy Yaw Davis took an anthropology class on Southwestern Native American culture. She noticed that some Zuni words sounded a hell of a lot like Japanese words, and at a rate way above random chance. For example, the Zuni word for "clan" is "kwe," while in Japanese it is "kwai." The word for "clown" is "newe" in Japanese and "niwaka" in Zuni. "Priest" is "shawani" in Japanese and "shiwani" in Zuni.

And then there was the whole syntax thing -- both languages use the verb as the last word of a sentence, a feature only 45 percent of languages share. That may not seem like a lot, but considering the Zuni language is nothing like the languages of the people who surround it, it's a pretty odd connection.

So then Davis really started digging, and that was when she discovered all kinds of spooky crap -- like that both the Zuni and the Japanese share frequency of Type B blood, a rare kidney disease and specific oral traditions about their origins. So her theory is that sometime around the 12th century Buddhist missionaries made it all the way to California and traveled inland. Somehow.
If Davis' theory is true, the Zuni walked away from the deal with Japanese genes and some kickass stories -- which is a whole lot better than, say, smallpox. So it could have been worse.
Are they lying? They're not experts, so they must be.
My Mind is Clean
11

Comments On This Entry
Features and Blog Roll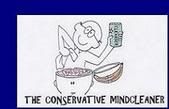 What Folks Are Saying About The Conservative Mindcleaner:
Jonah Goldberg
of National Review says:
"Uh Oh!"
Vox Day says

:
"A man after my own heart"
Chris's thought-provoking commentary and his sensible conservatism keeps California from falling further to the left and disappearing into the Pacific. He's a teacher, football fan and an all-around down to earth guy.
-Leland Lyerla (
The Southern Illinoisian Sports)
To add your testimonial, email me at
chris.naron@gmail.com
Not a member of RightNation.us? Post comments on The Conservative Mindcleaner Facebook page
Features
Contact Me
:
chris.naron@gmail.com
Blogs
Wild Game: Hunt at your peril
A Very Cool Blog on the Writing Business
: Real, working authors giving advice...
The Friday Challenge: Bruce Bethke
Daily Caller--Charles Johnson
Breitbart
Ace of Spades
The Corner
Classic Pop and Rock Digest
Taki's Magazine
New!
The Truth About Guns
Althouse
Instapundit
SooperMexican
Ricochet
The American Conservative
FreedomWorks News
Retraction Watch
Apologetics315
WagToons
Lileks
Elusively Yours
MIn TheGap
Righter's Blog Archive (Old School)
Barrels of Fish...for Shooting
Addicting Info
Jonathan Merritt (Green Baptist)
Pandagon
The New Republic
Atrios
Dailykos
Feministe
Domestic Pets
Trivia Happy
New!
Mental Floss
Dilbert Blog
Y Safle
Mindcleaner Mania Daily Trivia Tournament
Cartoon Cleaner
--Political Cartoons by Rightnation Artists...
David Allen's Blog
News Voyager
The Inland Valley Daily Bulletin
World Net Daily
Townhall
912 Project Profile
Updated! World's Shortest Movie Reviews
Blended I don't get the "Billy Madison is genius, Blended is crap" review. It's as good as any other Sandler movie.
Mom's Night Out Hilarious. You will laugh unless you drive a black BMW and watch sunsets at the golf course.
The Amazing Spiderman 2 This series is still better than the Toby McGuire one. I actually cared if Gwen Stacy died.
Odd Thomas I understand the critics who didn't like the uneven tone. Way uneven. Still worth watching on Netflix.
Star Trek Into DarknessGood movie. Please, for the love of tribbles, let old Spock die.
Grown Ups 2 Critics, attack. Whatever you want to say about this one, I'm okay with it.
Thor: The Dark World Still very, very good. But I'd like an entire Thor movie set just in Asgard.