This is how a
sick world
reacts to a righteous man:
Quote
Although this is likely a marketing campaign to garner attention, the infidelity website Ashley Madison is offering women $1 million if they can prove they slept with NFL quarterback Tim Tebow.

The pertinent tweets:
Quote
Score $1 million for scoring with Tim Tebow thanks to AshleyMadison.com and @noelbiderman . guyism.com/sports/ashley-…


Looks like Tim Tebow may still be a virgin....for now. Who wants to be a millionaire courtesy of AshleyMadison. crushable.com/entertainment/…

This is Larry Flynt level stuff. And it's a great illustration of how disgusting parts of our culture really are. There's a subset of morons out there who literally think they're doing something "American" by going out of their way to bring down a good moral example.
For those of you who don't know, Ashley Madison is a website designed specifically for people who want to cheat on their spouses. So, I suppose they want it to be a married woman who destroys Tebow. If not, what on Earth are they doing this for? This is pure, unmitigated evil. Noel Biderman, the site's founder, should be taken out and horse whipped.
Better yet, he should be forced to spend an afternoon with Tim Tebow. If after watching Tebow minister to children and bring inspiration to all he encounters this guy still wants to destroy him, then I say a good old fashioned shunning is in order.
Seriously, if you think it's funny or are rooting for Tebow to stumble in this manner, I say you are a piece of human garbage not fit to live in this country. Go live in whatever libertine hellhole you dream about at night. Just leave the rest of us alone to try and salvage some kind of decent society.
My Mind is Clean
16

Comments On This Entry
4 user(s) viewing
4 Guests
0 member(s)
0 anonymous member(s)


Features and Blog Roll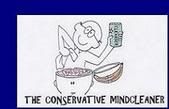 What Folks Are Saying About The Conservative Mindcleaner:
Jonah Goldberg
of National Review says:
"Uh Oh!"
Vox Day says

:
"A man after my own heart"
Chris's thought-provoking commentary and his sensible conservatism keeps California from falling further to the left and disappearing into the Pacific. He's a teacher, football fan and an all-around down to earth guy.
-Leland Lyerla (
The Southern Illinoisian Sports)
To add your testimonial, email me at
chris.naron@gmail.com
Not a member of RightNation.us? Post comments on The Conservative Mindcleaner Facebook page
Features
Contact Me
:
chris.naron@gmail.com
Blogs
Wild Game: Hunt at your peril
A Very Cool Blog on the Writing Business
: Real, working authors giving advice...
The Friday Challenge: Bruce Bethke
Daily Caller--Charles Johnson
Breitbart
Ace of Spades
The Corner
Classic Pop and Rock Digest
Taki's Magazine
New!
The Truth About Guns
Althouse
Instapundit
SooperMexican
Ricochet
The American Conservative
FreedomWorks News
Retraction Watch
Apologetics315
WagToons
Lileks
Elusively Yours
MIn TheGap
Righter's Blog Archive (Old School)
Barrels of Fish...for Shooting
Addicting Info
Jonathan Merritt (Green Baptist)
Pandagon
The New Republic
Atrios
Dailykos
Feministe
Domestic Pets
Trivia Happy
New!
Mental Floss
Dilbert Blog
Y Safle
Mindcleaner Mania Daily Trivia Tournament
Cartoon Cleaner
--Political Cartoons by Rightnation Artists...
David Allen's Blog
News Voyager
The Inland Valley Daily Bulletin
World Net Daily
Townhall
912 Project Profile
Updated! World's Shortest Movie Reviews
Blended I don't get the "Billy Madison is genius, Blended is crap" review. It's as good as any other Sandler movie.
Mom's Night Out Hilarious. You will laugh unless you drive a black BMW and watch sunsets at the golf course.
The Amazing Spiderman 2 This series is still better than the Toby McGuire one. I actually cared if Gwen Stacy died.
Odd Thomas I understand the critics who didn't like the uneven tone. Way uneven. Still worth watching on Netflix.
Star Trek Into DarknessGood movie. Please, for the love of tribbles, let old Spock die.
Grown Ups 2 Critics, attack. Whatever you want to say about this one, I'm okay with it.
Thor: The Dark World Still very, very good. But I'd like an entire Thor movie set just in Asgard.