I can't help but think of that line from Napoleon Dynamite where Kip walks in all blinged out about to take LaFawnduh out for some prime rib.
But this is actually very serious. The federal government is about to take away the last thing that keeps at least some Americans grounded in reality: Farm chores.
From
The Daily Caller
:
Quote
Under the rules, children under 18 could no longer work "in the storing, marketing and transporting of farm product raw materials."

"Prohibited places of employment," a Department press release read, "would include country grain elevators, grain bins, silos, feed lots, stockyards, livestock exchanges and livestock auctions."

The new regulations, first proposed August 31 by Labor Secretary Hilda Solis, would also revoke the government's approval of safety training and certification taught by independent groups like 4-H and FFA, replacing them instead with a 90-hour federal government training course.

<snip>

"What would be more of a blow," he said, "is not teaching our kids the values of working on a farm."

The Environmental Protection Agency reports that the average age of the American farmer is now over 50.

"Losing that work-ethic — it's so hard to pick this up later in life," Clark said. "There's other ways to learn how to farm, but it's so hard. You can learn so much more working on the farm when you're 12, 13, 14 years old."


I for one have no desire whatsoever to do farm chores having done enough to not ever want to do them again, and I never did all that much. However, this is so beyond what the federal government should be doing it's not even on this planet.
I don't know what it is about making children work that gets people so crazy. There are far worse things being done to children, and work can actually have a positive effect on them. In fact, the only work liberals seem to think is okay is acting. Yeah, how does that work out for those kids? Ask Corey Feldman. You never hear of a farm kid having the problems child actors routinely have. Sure you have your rural meth heads, but they get into that crap because they're shiftless burn outs from either the trailer park or overly indulgent middle class families. It's not like you have kids doing a full day's work and hitting the pipe to wind down.
Half of the problems we have with kids today could be solved with putting them to work. And they want to. Oh, they'll tell you they don't, but they do. If you get to them early enough, the sense of self-worth they derive from doing a job becomes part of their character. And they also like having money that's all their own to spend, which they spend more wisely than if mom and dad just give it to them.
I never, ever thought I'd hear something like this coming from the Washington DC Hellmouth. It's Twilight Zone on LSD kind of stuff.
My Mind is Clean
2

Comments On This Entry
5 user(s) viewing
5 Guests
0 member(s)
0 anonymous member(s)

Google, Yahoo
Features and Blog Roll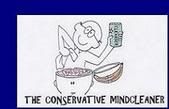 What Folks Are Saying About The Conservative Mindcleaner:
Jonah Goldberg
of National Review says:
"Uh Oh!"
Vox Day says

:
"A man after my own heart"
Chris's thought-provoking commentary and his sensible conservatism keeps California from falling further to the left and disappearing into the Pacific. He's a teacher, football fan and an all-around down to earth guy.
-Leland Lyerla (
The Southern Illinoisian Sports)
To add your testimonial, email me at
chris.naron@gmail.com
Not a member of RightNation.us? Post comments on The Conservative Mindcleaner Facebook page
Features
Contact Me
:
chris.naron@gmail.com
Blogs
Wild Game: Hunt at your peril
A Very Cool Blog on the Writing Business
: Real, working authors giving advice...
The Friday Challenge: Bruce Bethke
Daily Caller--Charles Johnson
Breitbart
Ace of Spades
The Corner
Classic Pop and Rock Digest
Taki's Magazine
New!
The Truth About Guns
Althouse
Instapundit
SooperMexican
Ricochet
The American Conservative
FreedomWorks News
Retraction Watch
Apologetics315
WagToons
Lileks
Elusively Yours
MIn TheGap
Righter's Blog Archive (Old School)
Barrels of Fish...for Shooting
Addicting Info
Jonathan Merritt (Green Baptist)
Pandagon
The New Republic
Atrios
Dailykos
Feministe
Domestic Pets
Trivia Happy
New!
Mental Floss
Dilbert Blog
Y Safle
Mindcleaner Mania Daily Trivia Tournament
Cartoon Cleaner
--Political Cartoons by Rightnation Artists...
David Allen's Blog
News Voyager
The Inland Valley Daily Bulletin
World Net Daily
Townhall
912 Project Profile
Updated! World's Shortest Movie Reviews
Blended I don't get the "Billy Madison is genius, Blended is crap" review. It's as good as any other Sandler movie.
Mom's Night Out Hilarious. You will laugh unless you drive a black BMW and watch sunsets at the golf course.
The Amazing Spiderman 2 This series is still better than the Toby McGuire one. I actually cared if Gwen Stacy died.
Odd Thomas I understand the critics who didn't like the uneven tone. Way uneven. Still worth watching on Netflix.
Star Trek Into DarknessGood movie. Please, for the love of tribbles, let old Spock die.
Grown Ups 2 Critics, attack. Whatever you want to say about this one, I'm okay with it.
Thor: The Dark World Still very, very good. But I'd like an entire Thor movie set just in Asgard.