Especially if you write for
The Huffington Post
:
Quote
Comedians are smart. After all, you have to be if you're going to dissect the complex landscapes of social discourse, contemporary culture and politics AND make people laugh while doing so. But most people aren't aware of just how smart many of today's notable comedians are. We're talking high school valedictorian, Ivy League-educated, summa cum laude smart.

Here are just a few comedians who are so smart they could have probably gone into any field they wanted, but chose to pursue comedy because it's what they love to do. You might be surprised how many of your favorite funny people have math or science degrees as well as how many comedians were or could have been lawyers.
Actually, I don't have a problem with this. I've always admired stand up comedians and clever satirists. I think it does take quite a bit of intelligence to consistently write material well enough to stay in the game. And just because I disagree with someone, it doesn't mean I think they're less intelligent than me. They just don't know what the flip they're talking about.
Here are some of the ones I
like
who are also smart:
1. Weird Al--Valedictorian, who graduated at 16. Graduated from Cal Poly SLO. I graduated from Cal Poly Pomona. So we're the same.
2. Ken Jeong--I'm more a fan of his work on Community than in the two Hangover movies. His portrayal of a Jewish Asian Spanish professor was as disturbing as it was hilarious. Oh, and he's an MD.
3. Mike Judge--A degree in physics from UC San Diego. This guy created Hank Hill. Enough said.
4. Rowan Atkinson--A Masters degree from Oxford. Mr. Bean. Classic.
5. Matt Stone--A degree in film? Meh. He also has a math degree so, smart. I'm not huge into South Park, but i dole it out to myself a little at a time, so I get used to it.
There are a ton of Daily Show and Colbert Report people on the list. I don't doubt their smarts, but I do doubt their character and work ethic. Both shows engage in the most lazy forms of comedy writing known to man. Cheap shots and "on the nose" predictable left-wing snark. In its day, SNL did a much better job even when they were going after pols I liked. I'm sure they did, but I don't remember them even taking too many cheap shots at Reagan. The DS and CR would do nothing but.
I'm also not impressed by any of the English degrees on the list. Law degrees, I guess, But that brings us back to character. I think a lot of the law grads are just snobby elitist liberals who are plenty smart, but they are arrogant and insulated. That breeds laziness.
Give me a smart, humble comedian with an inferiority complex any day and I'll show you a comedian I like and who will be around for a long time.
My Mind is Clean
8

Comments On This Entry
6 user(s) viewing
6 Guests
0 member(s)
0 anonymous member(s)

Google, Yahoo
Features and Blog Roll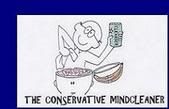 What Folks Are Saying About The Conservative Mindcleaner:
Jonah Goldberg
of National Review says:
"Uh Oh!"
Vox Day says

:
"A man after my own heart"
Chris's thought-provoking commentary and his sensible conservatism keeps California from falling further to the left and disappearing into the Pacific. He's a teacher, football fan and an all-around down to earth guy.
-Leland Lyerla (
The Southern Illinoisian Sports)
To add your testimonial, email me at
chris.naron@gmail.com
Not a member of RightNation.us? Post comments on The Conservative Mindcleaner Facebook page
Features
Contact Me
:
chris.naron@gmail.com
Blogs
Wild Game: Hunt at your peril
A Very Cool Blog on the Writing Business
: Real, working authors giving advice...
The Friday Challenge: Bruce Bethke
Daily Caller--Charles Johnson
Breitbart
Ace of Spades
The Corner
Classic Pop and Rock Digest
Taki's Magazine
New!
The Truth About Guns
Althouse
Instapundit
SooperMexican
Ricochet
The American Conservative
FreedomWorks News
Retraction Watch
Apologetics315
WagToons
Lileks
Elusively Yours
MIn TheGap
Righter's Blog Archive (Old School)
Barrels of Fish...for Shooting
Addicting Info
Jonathan Merritt (Green Baptist)
Pandagon
The New Republic
Atrios
Dailykos
Feministe
Domestic Pets
Trivia Happy
New!
Mental Floss
Dilbert Blog
Y Safle
Mindcleaner Mania Daily Trivia Tournament
Cartoon Cleaner
--Political Cartoons by Rightnation Artists...
David Allen's Blog
News Voyager
The Inland Valley Daily Bulletin
World Net Daily
Townhall
912 Project Profile
Updated! World's Shortest Movie Reviews
Blended I don't get the "Billy Madison is genius, Blended is crap" review. It's as good as any other Sandler movie.
Mom's Night Out Hilarious. You will laugh unless you drive a black BMW and watch sunsets at the golf course.
The Amazing Spiderman 2 This series is still better than the Toby McGuire one. I actually cared if Gwen Stacy died.
Odd Thomas I understand the critics who didn't like the uneven tone. Way uneven. Still worth watching on Netflix.
Star Trek Into DarknessGood movie. Please, for the love of tribbles, let old Spock die.
Grown Ups 2 Critics, attack. Whatever you want to say about this one, I'm okay with it.
Thor: The Dark World Still very, very good. But I'd like an entire Thor movie set just in Asgard.