Our good friend and Righter's Blog alum, Walter Scott Hudson just got him a link on Instapundit to his piece at
PJ Media
. Awesome job, Walter! Nobody deserves it more.
And it's a great piece to boot. I've been longing for a moment when those in the occupy movement and the Tea Party movement realize that we have something in common: The government and big business TOGETHER are the problem. Author of the new book,
Moral Capitalism
, Steve Young, thinks he's got the answer with yet another warmed over version of left-liberalism or "third way" politics...
Quote
Communitarians seek a synthesis of capitalism and communism, an imagined happy middle ground where people can pursue their dreams in a market smartly regulated to ensure that the poor and under-privileged don't slip through the cracks. Young's book synopsis explains:

Author Stephen Young argues that "brute capitalism" — profit-seeking regardless of effects — must give way to moral capitalism to attain widespread monetary and moral well-being.

You get the idea.
We've been getting the idea for over a century. It's Fabian Socialism, liberal fascism, Democratic Socialism, Social Democracy, New Dealism, Great Society and Compassionate Conservatism. None of these permutations of left-liberalism ever came to the conclusion that the problem is in the synergy created by the partnership between big business and big government in which both feed off one another only to get even bigger. None of their concepts of fairness confront the fact that this partnership has at its center the inherently unfair goal of protecting the established producers for the benefit of all involved in the partnership but to the detriment of those seeking a level playing field. Their rhetoric notwithstanding, of course.
Walter does a great job of listing the steps by which the occupiers, who are sincere in their skepticism of bigness, will come to the realization that the Tea Party way might not be so antithetical to their core ideals as they thought:
Quote
8 ) The Futility of Protest Without Power

<snip>

Tea Partiers have come to realize that protest without power is little more than cathartic release. As Occupiers come to recognize that same futility, they will be one step closer to Tea Partiers.

7 ) The Futility of a Movement Without Focus

<snip>

Without a clear focus, an objective and a plan to achieve it, the brighter Occupiers will eventually bore of fruitless activism and either reevaluate or disengage. Those who reevaluate may discover an affinity for the Tea Party's message of proper governance and individual liberty.

6 ) Revolution Is a Poor Alternative to Participation

<snip>

When Occupiers search their souls and ask themselves what the consequences of revolution might be to themselves and their loved ones, they may begin to realize that there is an easier if less sexy way to affect change.

5 ) Force, Not Money, Is the Root of All Evil

<snip>

If Occupiers really want to defang corporate lobbyists, they should defang Washington. Some of them may eventually come to realize that.


4 ) No One Will Ever Care About You More Than You

3 ) Ownership Has Its Privileges

2 ) There's a Legitimate Case for Not Trusting Anybody Over 30

1 ) The Wisdom of Age

Read the whole thing, as they say. In fact, read every word. If you don't, you'll miss great insights like, "the only way to maldistribute wealth is to maldistribute power. And the only entity capable of that is government."
Again, great job, Walter. This is spot on and exactly what I've been wanting someone to say for a long time.
And that's about the best compliment I can pay a writer.
My Mind is Clean
7

Comments On This Entry
Features and Blog Roll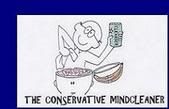 What Folks Are Saying About The Conservative Mindcleaner:
Jonah Goldberg
of National Review says:
"Uh Oh!"
Vox Day says

:
"A man after my own heart"
Chris's thought-provoking commentary and his sensible conservatism keeps California from falling further to the left and disappearing into the Pacific. He's a teacher, football fan and an all-around down to earth guy.
-Leland Lyerla (
The Southern Illinoisian Sports)
To add your testimonial, email me at
chris.naron@gmail.com
Not a member of RightNation.us? Post comments on The Conservative Mindcleaner Facebook page
Features
Contact Me
:
chris.naron@gmail.com
Blogs
Wild Game: Hunt at your peril
A Very Cool Blog on the Writing Business
: Real, working authors giving advice...
The Friday Challenge: Bruce Bethke
Daily Caller--Charles Johnson
Breitbart
Ace of Spades
The Corner
Classic Pop and Rock Digest
Taki's Magazine
New!
The Truth About Guns
Althouse
Instapundit
SooperMexican
Ricochet
The American Conservative
FreedomWorks News
Retraction Watch
Apologetics315
WagToons
Lileks
Elusively Yours
MIn TheGap
Righter's Blog Archive (Old School)
Barrels of Fish...for Shooting
Addicting Info
Jonathan Merritt (Green Baptist)
Pandagon
The New Republic
Atrios
Dailykos
Feministe
Domestic Pets
Trivia Happy
New!
Mental Floss
Dilbert Blog
Y Safle
Mindcleaner Mania Daily Trivia Tournament
Cartoon Cleaner
--Political Cartoons by Rightnation Artists...
David Allen's Blog
News Voyager
The Inland Valley Daily Bulletin
World Net Daily
Townhall
912 Project Profile
Updated! World's Shortest Movie Reviews
Blended I don't get the "Billy Madison is genius, Blended is crap" review. It's as good as any other Sandler movie.
Mom's Night Out Hilarious. You will laugh unless you drive a black BMW and watch sunsets at the golf course.
The Amazing Spiderman 2 This series is still better than the Toby McGuire one. I actually cared if Gwen Stacy died.
Odd Thomas I understand the critics who didn't like the uneven tone. Way uneven. Still worth watching on Netflix.
Star Trek Into DarknessGood movie. Please, for the love of tribbles, let old Spock die.
Grown Ups 2 Critics, attack. Whatever you want to say about this one, I'm okay with it.
Thor: The Dark World Still very, very good. But I'd like an entire Thor movie set just in Asgard.