My old friend, Tony, thinks so...
Quote
Obama compared to Stalin Lenin and Hitler…Really!!! The comparing of these men who orchestrated the death of millions to Obama is absolutely absurd. To not like the President is the right of any individual but to make such comparisons must come from a place of hate. If one feels that his policies are socialistic then why not compare him to other leaders in history that have those same views but without the blood stains on their resume. Supporters of these comparisons cowardly wear political masks and costumes and play the role of political adversaries to hide the true nature and the roots of their hate. You Haters you can hide behind propaganda, change your costumes a million times, and call it whatever you want but your signature ignorance will always give you away.
I think he's basically right. Whenever any partisan discussion is reduced to comparisons to Hitler or Stalin, no one is really arguing anything substantive. They are merely venting frustration. I will, however, disagree with the notion that it always comes from a place of hate. One can lazily and clumsily throw comparisons around without it being about hate. Sometimes, it's simply cliched rhetoric meant to score some kind of debater's points.
What's more rational in discussing Obama's politics and philosophy is to compare him to Woodrow Wilson, FDR and at the very extreme, Benito Mussolini. Now, I know what you're thinking. "Isn't comparing Obama to Mussolini the same as comparing him to Hitler?" Not really. It would be ignorant to lump Mussolini in with Hitler and Stalin for the same reason it's ignorant to lump Obama in with them. Mussolini was a fascist, but not a Nazi. His regime was nowhere near as obsessed with race and Hitler's, and though it was oppressive, it wasn't nearly as oppressive as either Stalin's or Hitler's. Nor as deadly.
What you have to look at is Mussolini's pre-war domestic agenda and how popular he was with American progressives. To Mussolini, the man who coined the term, totalitarianism wasn't a gray, dystopian vision of jackbooted thugs and thought control. It was a Utopian vision of self-sacrifice, socialism and national cooperation. Where he differed with other European socialists and communists was on the technical aspects of how to achieve it. He disagreed with the Bolsheviks as violently as he disagreed with the capitalists and everyone who didn't stand for his "third way" style of socialism. The bottom line was that under Italian fascism, the state became the end all be all of existence. American progressives, pined for the day when they could attack social problems like poverty and ignorance as proactively as Mussolini.
As a point of comparison, look at the way liberal pundits like Tom Friedman constantly praise China for it's ability to "get things done".
Obama
himself "has told people that it would be so much easier to be the president of China. As one official put it, 'No one is scrutinizing Hu Jintao's words in Tahrir Square.'" China is far less communist today and far more like fascist Italy. So, that kind of comparison, while fraught with all kinds of rhetorical dangers, is within the realm of good faith in a rational discussion.
What's completely fair and even crucial is comparing Obama to two of our most controversial progressive presidents, Woodrow Wilson and FDR. His economic policies are nothing more than warmed over New Dealism from FDR which was itself nothing more than warmed over "war socialism" from Wilson. Under both presidents, individual Americans who weren't direct beneficiaries of government interventions and relief found themselves far less free and prosperous than they had been when government was supposedly leaving them to drown. Because they saw the Constitution as an obstacle to overcome, Wilson and FDR greatly expanded the role of the executive branch. It was an outdated document insufficient to answer the needs of a country deep into the industrial era. Life moved faster, so the government needed to move faster.
This is where people tend to get a little crazy. While it's true that Obama is a part of the progressive tradition of expanding executive authority (look at the EPA for just one example), we still have a constitution to slow him down. And it's not until he clearly subverts it with an equivalent to Hitler's Enabling Act, or Stalin's "Yezhovshchina" that comparisons to them make any sense.
And there's a whole lot of Wilson, FDR and even Nixon before that happens. So, while comparisons to Hitler and Stalin aren't appropriate, there's no reason not to warn our liberal brethren about the dangers of left-wing fascism because, to be accurate, fascism in America is left-wing. It has nothing in common with American conservatism or libertarianism. That's an argument both rational and necessary.
My Mind is Clean
17

Comments On This Entry
6 user(s) viewing
6 Guests
0 member(s)
0 anonymous member(s)

Yahoo
Features and Blog Roll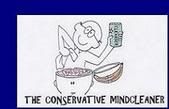 What Folks Are Saying About The Conservative Mindcleaner:
Jonah Goldberg
of National Review says:
"Uh Oh!"
Vox Day says

:
"A man after my own heart"
Chris's thought-provoking commentary and his sensible conservatism keeps California from falling further to the left and disappearing into the Pacific. He's a teacher, football fan and an all-around down to earth guy.
-Leland Lyerla (
The Southern Illinoisian Sports)
To add your testimonial, email me at
chris.naron@gmail.com
Not a member of RightNation.us? Post comments on The Conservative Mindcleaner Facebook page
Features
Contact Me
:
chris.naron@gmail.com
Blogs
Wild Game: Hunt at your peril
A Very Cool Blog on the Writing Business
: Real, working authors giving advice...
The Friday Challenge: Bruce Bethke
Daily Caller--Charles Johnson
Breitbart
Ace of Spades
The Corner
Classic Pop and Rock Digest
Taki's Magazine
New!
The Truth About Guns
Althouse
Instapundit
SooperMexican
Ricochet
The American Conservative
FreedomWorks News
Retraction Watch
Apologetics315
WagToons
Lileks
Elusively Yours
MIn TheGap
Righter's Blog Archive (Old School)
Barrels of Fish...for Shooting
Addicting Info
Jonathan Merritt (Green Baptist)
Pandagon
The New Republic
Atrios
Dailykos
Feministe
Domestic Pets
Trivia Happy
New!
Mental Floss
Dilbert Blog
Y Safle
Mindcleaner Mania Daily Trivia Tournament
Cartoon Cleaner
--Political Cartoons by Rightnation Artists...
David Allen's Blog
News Voyager
The Inland Valley Daily Bulletin
World Net Daily
Townhall
912 Project Profile
Updated! World's Shortest Movie Reviews
Blended I don't get the "Billy Madison is genius, Blended is crap" review. It's as good as any other Sandler movie.
Mom's Night Out Hilarious. You will laugh unless you drive a black BMW and watch sunsets at the golf course.
The Amazing Spiderman 2 This series is still better than the Toby McGuire one. I actually cared if Gwen Stacy died.
Odd Thomas I understand the critics who didn't like the uneven tone. Way uneven. Still worth watching on Netflix.
Star Trek Into DarknessGood movie. Please, for the love of tribbles, let old Spock die.
Grown Ups 2 Critics, attack. Whatever you want to say about this one, I'm okay with it.
Thor: The Dark World Still very, very good. But I'd like an entire Thor movie set just in Asgard.